The jewels created by Nairy are unique and made entirely by hand. The symbols, materials (stones, metals, natural elements …) and designs are chosen with special attention and care to create an harmony and connection with each being for whom the jewel has been created.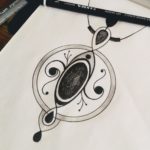 For each personalized art piece, the intention is to harmonize the vibratory structure of the person, which is achieved thanks to the symbiosis and alchemy that is born between the elements, the art of lithotherapy and the presence of the sacred symbols that merge magically into Nairy's creations.
At Nairy, we offer you personalized jewels, created in consciousness with great dedication and Love. We make amulets and alchemical symbols according to the tastes and needs of each person.
If you are interested in having a jewel made especially for the unique being that you are, contact us by email or using the contact form. 
We will love to meet you and tell you about the procedure.